Molten Cinnamon Rolls
Servings: 6
INGREDIENTS
2 packs cinnamon roll dough with icing
8 ounce block of cream cheese
¼ cup granulated sugar
½ teaspoon vanilla extract
½ cup milk
PREPARATION
Preheat oven to 400°F/200˚C.
Take two cinnamon roll dough pucks and press them flat into circles.
In a medium bowl, mix together the cream cheese, sugar, and vanilla, stirring until smooth.
Add the milk and stir until there are no lumps.
Freeze cream cheese mixture for about 1 hour until frozen but not too hard.
Scoop out a large spoonful of the mixture and place it in the center of one of the cinnamon roll dough circles.
Fold the edges of the dough up the sides of the cream cheese scoop.
Place the other flattened dough circle on top, using a spoon to tuck the edges underneath.
Repeat with the remaining dough and cream cheese.
Place the sealed dough balls upside down in a 9x9 cake pan with the seams facing upward.
Bake for 20–25 minutes until the rolls are golden brown and puffed.
Drizzle the reserved icing on top of the rolls, and serve while warm!
Cheesy Baked Hash Brown Patties
Servings: 9
INGREDIENTS
4 red potatoes
½ cup butter, melted
1 cup cheddar cheese, shredded
2 eggs, whisked
¼ cup chives, chopped
1 tablespoon garlic salt
1 teaspoon oregano
½ teaspoon pepper
PREPARATION
Preheat oven to 400°F/200˚C.
Peel and grate the potatoes.
Drop shredded potatoes into a large bowl of ice water to remove surface starch.
Strain or squeeze potato shreds and transfer to a large bowl.
Add butter, cheese, eggs, chives, garlic salt, oregano, and pepper in with the shredded potatoes. Mix together.
Take a handful of the mixture and pack it on a baking sheet into desired hash brown shape.
Bake at 400°F/200˚C for 40–45 minutes or until brown and crispy.
Allow to cool for 5 minutes.
Stuffed French Toast Pockets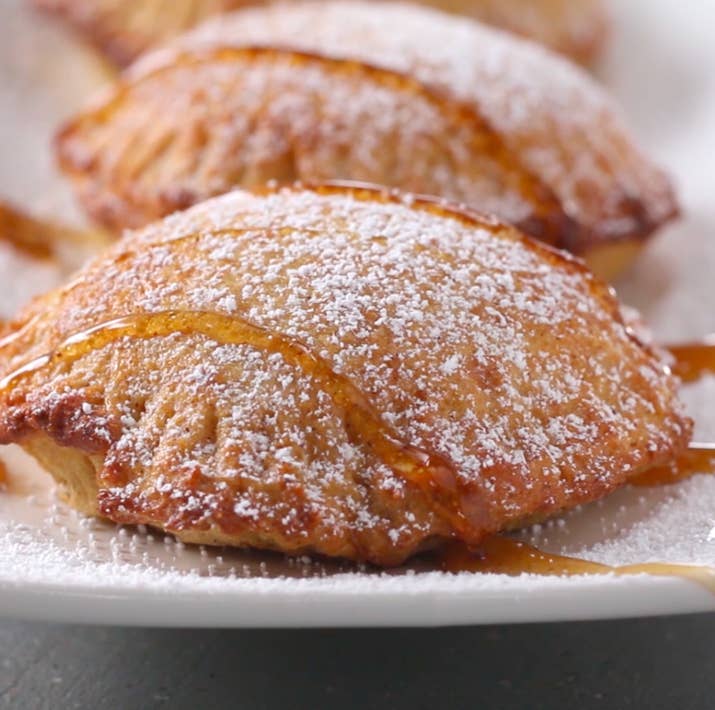 Servings: 2–4
INGREDIENTS
8 slices white bread
2 eggs
2 tablespoons milk
2 teaspoons vanilla extract
¼ teaspoon cinnamon
Filling:
4 ounces cream cheese
¼ cup honey
¼ teaspoon cinnamon
Garnish:
Powdered sugar
Syrup
PREPARATION
Preheat oven to 400˚F/200˚C.
Mix the filling ingredients together in a small bowl until consistency is smooth. Chill 30 minutes.
Roll each slice of bread flat with a mason jar or rolling pin.
Put about 1 tablespoon of filling in the center of a slice.
Place another slice directly on top, as if you were making a sandwich. (Be careful not to press down on the center so the filling doesn't spread.)
Using a wide-mouth mason jar lid or biscuit/cookie cutter, press firmly down on the sandwich and remove the crust around the lid.
Use a knife to refine the edges of the circle. Gently release pocket from lid.
Press down firmly on the outer edges of the pocket with a fork to make indentations.
Repeat steps 4–9 for each pocket. Set pockets aside.
Line baking sheet with parchment paper. Place baking rack on top of parchment paper and coat with cooking spray.
Whisk eggs, milk, vanilla extract, and cinnamon together in a small bowl.
Separately dip each pocket in egg mixture, flipping to ensure it gets entirely coated. Let excess drip off.
Arrange 4 pockets on baking rack. Bake at 400˚F/200˚C for 15–25 minutes or until golden brown.
Let cool for 5–10 minutes.
Garnish with powdered sugar and syrup.
Breakfast Enchiladas
Servings: 4–5
INGREDIENTS
Cheese Sauce:
⅓ cup butter
⅓ cup flour
3 cups milk
2 cups (8 ounces) shredded cheddar cheese
1 4.5-ounce can chopped green chiles, undrained
¾ teaspoon salt
Enchiladas:
1 pound package hot ground pork sausage
2 tablespoons butter or margarine
2 onions, diced
Green pepper, diced
2 tablespoons fresh cilantro, chopped
7 large eggs, beaten
Salt, to taste
Pepper, to taste
5 8-inch flour tortillas
1 jalapeño, diced
Cherry tomatoes, halved
PREPARATION
Preheat oven to 350˚F/180˚C.
Melt butter in a heavy saucepan over medium-low heat; whisk in flour until smooth.
Whisking constantly, add milk stir until thickened.
Add shredded cheddar and shredded jalepeño.
Cook sausage in a large nonstick skillet over medium-high heat, stirring until sausage crumbles and is no longer pink.
Drain well, pressing between paper towels.
Melt butter in a large nonstick skillet over medium heat, then add green onions and cilantro. Sauté 1 minute.
Add eggs, salt, and pepper, and scramble until eggs are cooked but still moist.
Remove from heat, add 1½ cups cheese sauce and sausage.
Spoon about ⅓ cup egg mixture down the center of each flour tortilla; roll up. Place seam-side down in a lightly greased medium baking dish. Pour remaining cheese sauce evenly over tortillas.
Bake at 350°F/180˚C for 30 minutes or until sauce is bubbly. Serve with desired toppings.
Sweet Potato Black Bean Hash
Servings: 3–4
INGREDIENTS
4 tablespoons olive oil
3 cups diced sweet potatoes (about 2 large potatoes)
½ yellow onion, diced
1 red pepper, sliced
Salt, to taste
Pepper, to taste
½ tablespoon paprika
1 teaspoon cumin
2 cups spinach
1 15-ounce can black beans
PREPARATION
Heat olive oil on medium heat in a large pan.
Add sweet potatoes, onion, pepper, salt, pepper, paprika, and cumin and stir. 3. Cook for 10 minutes, occasionally stirring.
Add spinach and cook for an additional 5 minutes. Lastly, add the black beans and stir until all ingredients are well-blended.
Serve up with eggs and avocado or on its own.
Cream Cheese-Filled Banana Bread Muffins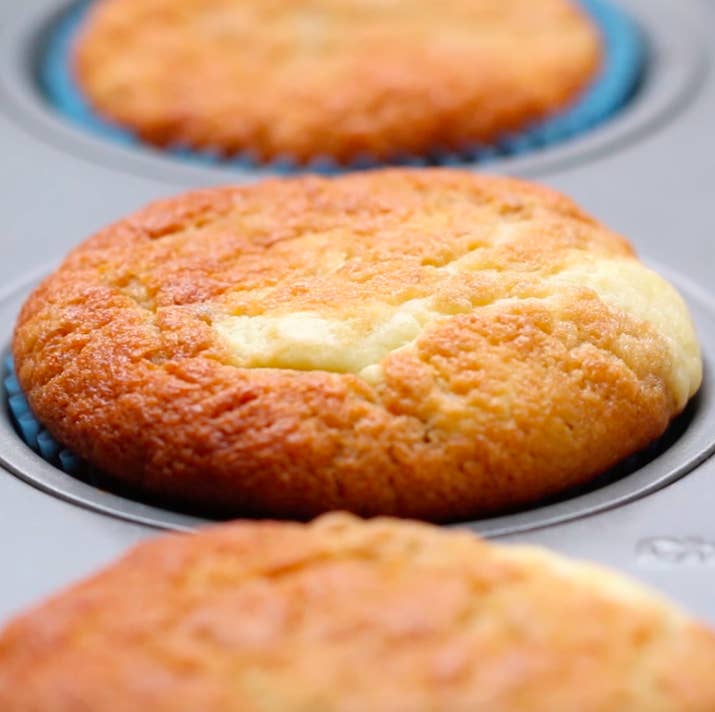 Servings: 12
INGREDIENTS
Muffins:
1 large egg, beaten
½ cup light brown sugar
¼ cup granulated sugar
½ cup butter, softened
¼ cup sour cream (Greek yogurt may be substituted)
1 teaspoon vanilla extract
2 ripe bananas
1 cup all-purpose flour
½ teaspoon baking soda
½ teaspoon baking powder
Cream Cheese Filling:
1 large egg
4 ounces softened cream cheese (½ block)
¼ cup granulated sugar
3 tablespoons all-purpose flour
PREPARATION
Preheat oven to 350˚F/180˚C.
To prepare the bread, combine egg, sugars, butter, sour cream, and vanilla in a large mixing bowl. Whisk together. Add the bananas and mash together.
Add flour, baking powder, and baking soda, and mix lightly to combine. Set aside.
To prepare the cream cheese filling, mix egg, cream cheese, sugar, and flour in a small bowl.
To assemble the muffins, spoon a layer of bread batter into a greased muffin tin. Then spoon a layer of cream cheese filling, and top off with another layer of bread batter.
Bake at 350˚F/175˚C for 20–25 minutes. Baking times may vary. Muffins are done when a toothpick inserted in the center comes out clean.
Allow muffins to cool for 15 minutes.
Skillet Breakfast Hash
Servings: 4-6
INGREDIENTS
1 pound hash browns
1 teaspoon salt
1 teaspoon black pepper
1 teaspoon paprika
1 tablespoon vegetable oil
6 eggs
⅓ cup heavy cream or whole milk
6 slices bacon
1 cup cheddar cheese
1 tablespoon fresh chives, chopped
Serve with ketchup or hot sauce (optional)
PREPARATION
Preheat oven to 350˚F/175˚C.
In a medium bowl, season hash browns with salt, pepper, and paprika. Toss until fully incorporated.
In a medium skillet, cook six slices of bacon until crispy. Set bacon aside and remove excess fat from the pan.
Heat oil in skillet, then spread hash browns so they take the shape of the pan and form a nest.
Cook hash browns for roughly 7 minutes on medium so that the bottom forms a crispy crust.
In a medium bowl, whisk eggs, milk, chopped bacon, and cheddar cheese.
Pour egg mixture over hash browns and spread evenly.
Bake at 350˚F/175˚C for 20 minutes, or until the surface is golden brown and eggs are cooked through.
Sprinkle fresh chives, slice, and serve while hot. (This dish is delicious with ketchup or hot sauce, but that's optional.)